What Forms of Gambling Are Legal in North Carolina?
As you might expect from a state that has traditionally taken a conservative stance towards gambling, there are not many ways to place a wager in North Carolina.
The state is now home to three casinos where visitors can play casino games. At all of these establishments, you are allowed to place sports bets; retail North Carolina sports betting was legalized in 2019, and went live in 2021.
There are numerous bingo rooms in North Carolina, and a popular state lottery, but the only option if you want to play online casinos is to visit a social casino.
Sports Betting in North Carolina
Retail sportsbooks went live at state casinos in July 2019. Online North Carolina sports betting apps could go live as early as 2024 if legislation is passed this year.
Casinos in North Carolina
North Carolina has three land-based casinos, located primarily in the western part of the state. The casinos operate a combined 5,500 slots, 200 live table games and three retail sportsbooks. Legal online casino is not yet legal in NC, and there is no visibility on whether that may change.
Horse Racing in North Carolina
Horse racing is allowed in NC at the state's tribal casinos, though there are no legal online horse racing sites. Pari-mutuel betting was allowed as part of the sports gambling bill that passed in 2019, but there are no active racetracks in the state.
North Carolina Lottery
North Carolina has one of America's youngest lottery systems, born in 2005. The NC State Lottery Act started the Lottery commission, charged with overseeing all areas of the NC Education Lottery. For the state lottery, raising funds for education is the main goal.
Bingo in North Carolina
Licensed non-profit agencies can operate bingo up to twice a week with sessions lasting no longer than five hours. Qualified non-profit and charitable organizations may operate bingo, with a few of those locations including restaurants as well.
Poker in North Carolina
Poker in NC is based solely at poker rooms located at the state's three casinos - Harrah's Cherokee Casino Resort, Harrah's Cherokee River Valley and Catawba Two Kings. Online poker in the Tar Heel State is currently illegal and unregulated, but could be made ready with the appropriate legislation.
Daily Fantasy Sports in North Carolina
Daily Fantasy Sports is legal in North Carolina, though this form of gambling has not yet been officially recognized and regulated by lawmakers in the state.
A History Of Gambling in North Carolina
North Carolina's historical aversion to gambling can be traced back nearly 300 years. In 1749, a statute was adopted that discouraged "excessive and immoderate" gambling. Any organization trying to press the cause of gambling in the centuries since has tended to come up against entrenched official opposition.
The North Carolina state lottery, for instance, was not launched until 2006 – some time after most other states embraced this form of gambling. Bingo games and raffles are popular in the state, and since 1979 have been regulated - provided they are operated by non-profit organizations.
The state's first tribal casino did not open until 1997, and only in 2012 were such establishments allowed to offer anything more than slot games and electronic poker.
However, North Carolina accepted the invitation posed by the US Supreme Court's voiding of the Professional and Amateur Sports Protection Act in 2018, and legalized betting on sports the following year.
The first two in-person sportsbooks launched in 2021, operating under the Caesars Sportsbook brand, with a third joining them in 2022. There have been efforts since then to legalize sports betting online; the passage of house bill HB 347 early in 2023 gave rise to hopes that the senate might approve it too, leading to the launch of mobile sports betting later in the year, or early in 2024.
North Carolina Casinos
There are now three locations in North Carolina that you can visit to enjoy casino games. All are located on tribal lands, two in the west of the state and one closer to Charlotte.
At all of these casinos, you can expect to find a generous number of slot machines and the opportunity to play a variety of table games.
Each live casino is also home to a retail sportsbook, so you can mix the fun of playing casino games with the excitement of betting on your favorite leagues and teams.
🏦 Harrah's Cherokee Casino Resort
🏦 Harrah's Cherokee Valley River Casino
Are There Casinos in North Carolina?
Yes, there are casinos in North Carolina. The Eastern Band of Cherokee Indians has been permitted to run bingo games since 1982, and opened the first of its two live casino locations in 1997. The Tar Heel State is now home to three casinos where you can play casino games and take part in sports betting.
Catawba Two Kings Casino is the latest to be developed, and while you can play at the complex, there is still a lot of development going on. The casino is a pre-launch temporary gaming establishment now open for business in Kings Mountain. The temporary casino incorporates a branded Catawba Two Kings Casino sportsbook with teller services.
Harrah's Cherokee Casino Resort
The Harrah's Cherokee Casino Resort opened in 1997 and is now the biggest live casino in the state. Located near the town of Cherokee, some three hours' drive to the west of Charlotte, it features an impressive total of 1,800 rooms and a huge choice of live casino games.
You can play on 3,000 slot machines and more than 160 table games, while the sportsbook features a 90-ft screen. This is a premium leisure destination, with a host of entertainment for the visitors who flock to its relatively remote location.
Harrah's Cherokee Valley River
Harrah's Cherokee Valley River opened in 2015 after the Eastern Band of Cherokee Indians negotiated a new gaming compact with the state. Located in the far west of the state near the town of Murphy, this live casino boasts more than 1,000 slot machines and over 60 table games.
The casino is part of a complex that also features 300 hotel rooms, many of them with stunning views of the local mountain scenery. You can also enjoy sports betting as well as the casino games, thanks to the sportsbook which is run – like the one at its sister property, by the respected Caesars gambling operation.
Catawba Two Kings Casino
The Catawba Indian Nation became the second recognized tribe to open a live casino property in North Carolina in July 2021. That's when the Catawba Two Kings Casino, 35 miles to the west of Charlotte, first opened its doors to players.
Ever since then, the casino has operated in a temporary location. The plan has always been, ever since the tribe first applied for a license in 2013, to construct a new purpose-built casino resort.
However, this has been subject to constant delays and there is still no date slated for its completion. There are hopes that the $273million project might open for business in 2024, with an enhanced number of casino games to entertain visitors.
Visitors to the Two Kings can enjoy more than 1,000 slot machines and a selection of electronic table games. There is also a sportsbook on the premises, operated by the tribe in partnership with International Gaming Technology.
What is the Largest Casino in North Carolina?
The largest casino in North Carolina is Harrah's Cherokee Casino Resort. The brick-and-mortar casino, operated by the Eastern Band of Cherokee Indians, offers over 150,000 square feet of gaming space, which is more than three times the next largest casino - Harrah's Cherokee River Valley.
However, the crown of largest NC casino will be passed to the permanent Catawba Two Kings Casino once it opens later this year or early next year. The permanent facility will boast nearly 200,000 square feet of gaming space once open.
Do North Carolina Casinos Have Hotels?
Yes, North Carolina casinos have hotels, restaurants, bars and entertainment venues. The two Cherokee-owned casinos offer over 2,100 hotel rooms, 1,800 of which are located at Harrah's Cherokee Casino Resort.
And when Catawba Two Kings is opened, the casino will offer a hotel with 1,500 rooms.
Can I Gamble Online in North Carolina?
No, you cannot gamble online in North Carolina. There have been repeated attempts to legalize online gambling in the Tar Heel State, but the wait goes on for online bettors. However, the passage of house bill HB 347 in early 2023 has led to cautious optimism that, if the senate and governor do not stand in its way, mobile sports betting could launch in the state late in the year or early in 2024. Only when that has occurred would it be feasible to push for the legalization of online casino gambling too.
The only forms of gambling that can be enjoyed online for real money at this time are Daily Fantasy Sports games and the North Carolina state lottery.
Are Online Casinos Legal in North Carolina?
No, online casinos are not legal in North Carolina. Efforts to pass online casino legislation have not yet been made as online sports wagering is being prioritized. In the meantime, there are some ways around this like using illegal offshore casinos (which we do not recommend) or playing at Sweepstakes casinos or cafes.
Do I Need to be a North Carolina Resident to Play Online Casino Games?
No, you do not need to be a North Carolina resident to gamble on the internet. However, if and when online gambling legislation is passed in the Tar Heel State, you'll need to be at least 21 years old and be located within state lines when gambling.
Are Social Casinos Legal in North Carolina?
If you want to enjoy the experience of playing online casinos, and don't mind taking part without real money at stake, you can visit a social casino. Social casinos are available in all 50 states, and are legal for the simple reason that you play for tokens rather than actual cash.
When you sign up for an account at a social casino, you are given a stack of tokens that you can use to play slots and other casino games.
Although a social casino does not constitute real-money gambling, there are some sweepstakes casinos that exploit a loophole in the law. It is possible at this type of social casino to exchange your tokens for tickets to sweepstake games, in which there are cash prizes at stake.
Will I Need to Pay Taxes on my Gambling Winnings?
Yes, you will need to pay taxes on gambling winnings in NC, but only on big wins. The IRS views all forms of gambling income as taxable; keep a record of all your wins and losses so that you can include them in your annual tax return and pay the correct amount.
However, recall that NC does not allow you to itemize your gambling losses and offset them against profits. This means for example if you were to win $1000 and lose $1000 you still owe state income tax on the winnings. To determine how much you owe, BetCarolina.com offers a gambling tax calculator.
When Will Online Casinos be Legal in North Carolina?
It's tough to say when online casinos might be legal in North Carolina. However, it could be a while given the sluggish pace of legislation in other gambling states. The next step towards online casino gambling legalization would be the legalization of online sports betting, and if that passes this year, mobile sportsbooks would likely launch early 2024. Until then, North Carolina online casinos are illegal.
What North Carolina Casinos Will Get an Online License?
If online casino sites are legalized in North Carolina, it's safe to assume that the state's three Indian casinos would receive online licenses. In some states, casinos are allotted more than one online license.
Outside of those casinos, several of North Carolina's bingo halls could also receive online casino licenses. In some other states, bingo halls have received licenses to offer forms of online gambling such as betting on sports or online casino.
North Carolina Online Casino Laws
North Carolina online casinos and online gambling are both strictly forbidden, though a bill is in circulation that could begin to open up the possibility to online casinos in the state. HB 347, which looks to legalize online sports gambling, passed the House and currently sits with the state Senate.
If that bill passes, it could open up the path toward online casino sites in NC, as online betting in other states has typically opened the possibility of online casinos.
State gambling laws don't allow online gambling of any kind. According to North Carolina gambling laws, "no person or entity is permitted to operate a game of chance or to play or bet on any game of chance that involves winning money, property, or anything of value".
❌ Internet gambling is strictly prohibited in NC.
❌ Games of chance must not be operated online.
❌ A bill is being looked at to allow online gambling in the near future.
❌ We do not recommend offshore casinos.
❌ We can't win money or anything of value through gaming online.
What Will it Take to Get Legal North Carolina Online Casinos?
The first step towards the legalization of North Carolina online casinos is undoubtedly for sports betting to be made lawful for online players.
A house bill was passed in early 2023 that enjoyed widespread support and would legalize sports betting online. There are hopes that this bill will make it through the senate, opening the door for online sportsbooks to open in late 2023 or early 2024.
Only then could the drive towards legalizing online casino sites in North Carolina begin. Only half-a-dozen states have given online casinos the green light so far, while more than 30 now have some form of online sports wagering.
It's worth noting that in places where online casino is now legal, betting on sports tended to be launched first. Fans of North Carolina gambling sites may have to be patient for a while yet.
What is the Status of Expanded Gambling Legislation in North Carolina?
Many shrewd observers are confident that North Carolina will join the ranks of states where online sports betting is legal before the end of 2023.
This is a state where a senate bill to legalize the activity was defeated by a single vote on the house floor in 2022. In March 2023, legislation was introduced to the house in early March – and was passed with a clear majority within just two weeks.
All eyes are now on the senate, with hopes high that it will also approve the bill. That would open the way for North Carolina, where retail sports betting is legal already, to license online sports wagering later in 2023 or in early 2024.
What Legal Gambling Options in North Carolina Are Available Now?
As things stand, the list of legal gambling options available to residents of North Carolina is shorter than the selection on offer in many neighboring states. The Tar Heel State's long-standing antipathy to all forms of gambling means there are very few ways to place a legal wager.
There are three land-based casinos where you can enjoy a selection of popular casino games. You are also permitted to place sports bets through each of the retail sportsbooks that operate at those three casinos.
North Carolina is also home to several bingo games operated by licensed non-profit operations, while you can also play the state lottery and Daily Fantasy Sports games. If you want to play at online casino sites, your only option is to visit one of the social and sweepstakes casinos that offer their services to people in North Carolina.
Sweepstakes Casinos in North Carolina
A sweepstakes casino, parlor, or (internet) café is an establishment that gives away chances to win prizes by purchasing a product or service instead of wagering funds directly. The games can look and feel just like ordinary online casino games, but you won't be able to win any real cash. As soon as you fire up the sweepstakes casino you can enjoy a variety of sweepstakes games.
They can offer slots of all kinds including classic slots, video slots, themed slots, and more casino products like Keno. The best design, graphics, sound, and themes may accompany the software of these internet cafes.
Social Casinos in North Carolina
A social casino, or free-to-play casino, allows online gamblers to play casino games without the need to spend money. Instead of winning real money, you win coins or tokens, which can be used to to play table games, online slots, poker games, video poker and more. And better yet, the games look and feel just like typical casino games.
However, you can elect to spend money with social casinos if you like. This can done so through buying coins, tokens free spins, or any other methods of benefiting your play. Again, it's not mandatory to spend money with social casinos, but it could help you get a leg on the sites and apps.
Who Would Regulate North Carolina's Online Casinos?
It's tough to say who would regulate North Carolina online casinos, whether that would be an existing or new gambling regulator. Currently, the Cherokee Tribal Gaming Commission, which is associated with the National Indian Gaming Commission, oversees the state's three tribal casinos. Current betting operations in NC are presently overseen by this body.
Additionally, the North Carolina Education Lottery rules and regulates lottery operations in the state. In several states with legalized betting on sports, the state lottery oversees and operates sports wagering. We don't expect that to be the case in NC, as the creation of a sports betting regulatory commission is likely on the table as part of proposed legislation.
Can I Visit Offshore Online Casinos?
While anyone can visit and play with offshore online casinos, it's not recommended to do so. Such offshore gambling sites are unregulated while customers are unprotected while using them.
There are several of these sportsbooks and online casino sites, but your funds are not guaranteed to be safe with unregulated operators. There can be numerous unforeseen circumstances that can put your money, data, or information at risk.
To reiterate, online gambling is still illegal in NC as it stands.
❌ Funds are not guaranteed to be safe.
❌ Licensed but unregulated gaming operators.
❌ Data and information possibly at risk.
❌ Funds not held in a separate account.
❌ Internet gambling is illegal in NC.
Offshore Gambling vs. Legal In-State North Carolina Gambling
You may be able to access certain websites that offer real-money casino games to people based in North Carolina. These are, however, run by unlicensed offshore companies who are operating in a legally gray area.
We strongly advise you not to take the risk of playing real-money games with such companies, for a host of reasons. The security measures in place at unlicensed sites are likely to be less stringent than with regulated operations. You also have less reassurance that the games there are being run fairly, while some offshore casinos have been known to use misleading marketing messaging to tempt players.
Most worrying of all is the fact that, in the event of a dispute between you and an offshore casino, you have no legal recourse whatsoever and are unlikely to be able to reclaim your money.
What Does the Future Look Like for Online Gambling in North Carolina?
North Carolina stands at a crossroads when it comes to the immediate future of gambling in the Tar Heel State. This is a state where betting on sports and playing casino games are legal, and have been for some time. The only restriction is that you have to be located on licensed casino premises to be able to gamble in this way, and there are only three land-based casinos serving a state that is home to more than 10 million people.
There are distinct grounds for optimism that 2023 might be the year in which the North Carolina legislature clears the way for online gambling, specifically betting on sports, to begin here. If the senate adds its approval to the house bill that passed in March 2023, North Carolina could and should be home within 12 months to a vibrant and successful online sports betting industry. This is a state that loves its sport, and would undoubtedly relish the opportunity to wager on it.
For the many bettors who would also enjoy the chance at playing casino games online with licensed operators, there would be hopes that such companies might be allowed to ply their trade here one day. At the time of writing, however, there are several decisions that need to be made, in what is unlikely to be quick succession, before we can realistically be confident that online casinos are coming to North Carolina soon.
Responsible Gambling in North Carolina
Gambling can be addictive and in a small number of cases it becomes a problem whether it's slot machines, the roulette table, or other forms of table games or gambling.
Many gaming operators offer players the choice of setting their own online casinos limits. There are several resources dedicated to responsible gambling in North Carolina. The North Carolina Problem Gambling Program provides several problem gambling services and resources. 'More Than A Game' is another service with a gambling assistance program offering resources for immediate support.
Check out: morthanagame.nc.gov for more information. More Than A Game sponsors training events and provides other information and support. Remember, we can self-exclude easily from certain aspects of online gambling and gaming if we need to when it goes live in NC.
North Carolina Online Casino FAQs
There are three land-based casinos in North Carolina, all of which are located on tribal lands. Those casinos are Harrah's Cherokee Casino Resort, Harrah's Cherokee River Valley and the newest - Catawba Two Kings. NC casinos offer slots, table games and retail sportsbooks.
The casinos in NC are located primarily in the western part of the state. Harrah's Cherokee Valley River Casino is in Murphy and Harrah's Cherokee Casino Resort is in Cherokee. Catawba Two Kings Casino is in Kings Mountain, a 45-minute drive from Charlotte.
No, you cannot gambling online in North Carolina as it is currently illegal. A new Senate Bill to allow online sports betting and online casinos is expected to be proposed in the 2023 legislative session, and if passed, could allow online gambling in NC in 2024.
There are several forms of legal gambling in North Carolina, including land-based casinos, horse racing, retail sports betting, bingo and lottery. All of the typical forms of gambling are offered at NC tribal casinos - slots, blackjack, roulette, poker, retail sportsbooks and more.
The legal gambling age in NC is 21 years of age or older. That goes for all forms of gambling in the Tar Heel State except for the North Carolina Lottery, where the minimum age to play lottery games in 18.
Author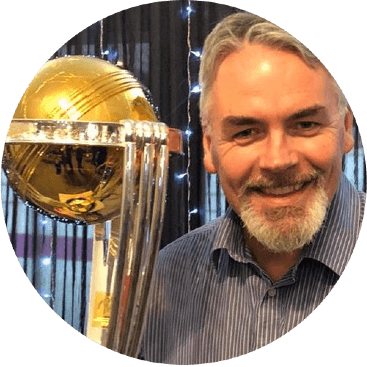 Martin Booth
Senior Writer & Product Reviewer

@MartinBooth_
Martin Booth is a Senior Writer and Product Reviewer for BetCarolina.com. An expert at picking out exactly what sets each app apart, Martin is our go-to source when it comes to informing our readers on what the top betting apps and sites have to offer in North Carolina.