About Harrah's Cherokee Casino Resort
The Harrah's Cherokee Casino Resort opened for business in 1997, thanks to a deal between North Carolina and the Eastern Band of Cherokee Indian tribe, one of the state's federally recognized tribes. The venue lies a couple of miles to the south-east of Cherokee in a fairly remote part of the Tar Heel State, some three hours' drive from Charlotte.
Harrah's is now part of the Caesars Entertainment empire. When the opportunity arose to open a sportsbook at the venue in 2021, it was inevitable that Caesars – now one of the nation's leading sports betting operators – would be the brand to run it.
This is one of only three in-person sportsbooks to be found anywhere in North Carolina. When you arrive at the venue, look for the sportsbook on the casino floor, next to the World Series of Poker room.
Can You Sports Bet at Harrah's Cherokee Casino Resort?
You can place bets on a wide range of sports at the Caesars Sportsbook North Carolina at the resort. There are a couple of ways in which you can place those wagers in person. One of the advantages of betting in person is that you might be able to watch your favorite action on a big screen here too.
If you are a customer of the Caesars Sportsbook, which is live in about 20 states, you will be familiar with the types of sports bets you can place. You will also know that Caesars prides itself on offering a great customer experience. Key to that is the broad selection of sports available, and of ways in which you can wager on the top leagues and events.
Harrah's Cherokee Sports Betting Kiosks
If this is not your first time in a gaming space, and you have some experience of placing sports bets, you may be comfortable using the betting kiosks.
There are ten of these self-service facilities at the Caesars sportsbook at the Harrah's Cherokee Casino Resort, and they are easily found. You should be able to find the betting options you want, and to place your bet, with the minimum of fuss.
The kiosks should be available throughout the sportsbook's opening hours. If you are having trouble for any reason in locating your preferred market and getting your money on, staff should be on hand to offer assistance.
Harrah's Cherokee Sports Betting Windows
Many visitors to retail sportsbooks still prefer to place their bets in person, in which case you can head to more than half a dozen staffed betting windows at the resort's sportsbook.
The people manning these windows should have the training and expertise to advise you about any aspect of your sports wagering experience. They should also be able to accept your bet and make sure your money has been placed correctly on your chosen event and market.
All, or some, of the windows should be staffed throughout the hours of operation at the Caesars sportsbook. The presence of company representatives should add to the sense of reassurance for less experienced bettors.
Watching Sports at Harrah's Cherokee Casino Resort
One of the main attractions for sports bettors at the resort is the gigantic screens on which you can watch top sporting action. What could be more fun than placing your wager and seeing how it plays out on a huge screen?
The main screen here is no less than 90 feet wide. That means you can watch the biggest events in cinematic style. There are also numerous smaller screens dotted around the sportsbook.
You can also book one of the three Fan Caves, which offer an 85-inch HDTV as well as extremely upscale furniture.
Does Harrah's Cherokee Casino Resort Have a Sports Betting App?
The Caesars sportsbook is available in about 20 states in the form of a website and dedicated sports betting app. If, as we expect, Caesars obtains one of the mobile betting licenses in North Carolina, people across the Tar Heel State will be able to wager with the company through their mobile devices.
The Caesars app is highly regarded by customers who visit the major app stores to register their reviews. It features a host of great bonuses, a wide choice of sports to wager on, and a top-notch user interface.
It is possible to download the Caesars app in North Carolina already, but you cannot yet place bets through it. If and when the Caesars app and website go live in the state, you can be confident it will be one of the best North Carolina sports betting apps.
Can You Claim Sports Betting Promos at Harrah's Cherokee Casino Resort?
Promotions and bonuses play a key role in attracting new clients to an online sportsbook. In the countdown to the launch of legal online sports betting in early 2024, you can expect to see a host of attractive North Carolina sports betting promos.
Bonuses are a less key feature of retail sportsbooks. After all, you are already on the premises and unable to switch easily to a competitor. Nevertheless, there are some promotions that you should be able to enjoy when you visit the Harrah's Cherokee Casino Resort.
For instance, any welcome bonus that applies when you open a Caesars sportsbook account should be available here. Look out too for odds boosts, enhanced same-game parlay payouts and other promotional offers.
Bet Types at Harrah's Cherokee Casino Resort
However you prefer to place bets on sport, you should find every option available in this welcoming corner of western North Carolina. Most, if not all, the standard bet types available at online sportsbooks can be used here.
Moneylines

The moneyline is the simplest bet on the coupon. Just pick which team you think will win a game and the odds will tell you the likelihood – no spreads, no handicap, merely a straight bet. If you like the Charlotte Hornets for their next NBA matchup and just want to bet on them to win, this is the ideal option for you.

Point Spreads

A point spread is a great way to wager on a favorite at better odds than the moneyline. The catch is that your pick has to win by more than the spread, which is the number of points given to the underdog as a starter. Point spreads are hugely popular, particularly with football fans, and if you think the Carolina Panthers will win handsomely and cover the spread on the next game day, this is the way to go.

Futures

It should be possible to place bets at the Caesars sportsbook whose outcome will not be known for several months. For instance, you may wish to wager on the Carolina Panthers next season to win their division, their conference, or the Super Bowl. If you place a futures bet like this, make sure you keep your bet slip or that the bet has been registered in your Caesars account so that you can collect at a much later date.

Totals

It's possible to bet on the number of times something happens in a game – most often this is the combined total of the points scored by both teams. The sportsbook will suggest what that total will be, and you have to decide whether the actual total will be over or under that figure. That gives totals their alternative label, over/unders, and they are another incredibly popular type of sports wager.

Parlays

Parlays are eternally popular because they dangle the tantalizing prospect of a big payout in return for a little stake. The only catch is that all the selections in your parlay have to hit for you to get that payout. In recent years, same-game parlays have won numerous fans; it's possible to look at the Carolina Hurricanes and bet on a combination of outcomes in their next NHL game that could net you a handsome return.

Prop Bets

There are many wagers on any sports betting coupon that are not related to the overall outcome of a game. These are called proposition bets, or props – and the potential number of wagers is extraordinary. Check out the props for a major NFL or NBA game and you'll find scores, if not hundreds, of markets relating to the performance within the game of individuals and either team.

Live Bets

Now that betting odds can be updated instantly, sportsbooks have the capability to keep taking wagers while a game is under way. Many bettors love the challenge of trying to stay ahead of the book to gain an edge based on their view on what will happen next. You should be able to place live bets, and the kiosks at the Harrah's Cherokee Casino sportsbook may be your best option for a quick play.

Teasers

A teaser bet is a variation on a parlay and a point spread. You can change the spread to make the bet easier to win; in return, the sportsbook will flex the odds to make the payout smaller. Many people like placing teasers on football and basketball, and combining the outcomes on two or more games in an attempt to build a larger payout.
Gambling at Harrah's Cherokee Casino Resort
For fans of sports, and those who enjoy betting on them, the Caesars Sportsbook represents a compelling reason to visit the Harrah's Cherokee Casino Resort. However, this is a location with a host of great features and property amenities that attract visitors from across the state and beyond.
The resort is the biggest of its kind in North Carolina. As well as the sportsbook, and the extremely well regarded casino, you can enjoy a host of dining and live entertainment options, an indoor pool, fitness center, Ruth's Chris Steak House, free parking and more. For those who find it hard to escape work, the resort also includes a substantial business center with meeting areas and a convention space.
There is a spa on site that promises the last word in therapeutic luxury, and the fact that virtually the entire resort is non-smoking is a big lure for many visitors.
Harrah's Cherokee Casino Resort Slots
There are more than 3,000 slot machines available on the enormous gaming floor, which covers a total of 150,000 square feet. That means you should find a slot title that suits you.
Be aware, though, that under the terms of North Carolina's tribal compact, games must have an element of skill. That means after your initial spin, you must choose which reels to hold before making a second spin. Many of the slot machines are now Cherokee Raffle Reels, which feature this style of slot play.
Harrah's Cherokee Casino Resort Table Games
With more than 160 tables on that cavernous gaming floor, you can be fairly sure that your favorite casino game will be available. Naturally, many of the traditional games are featured here, including blackjack and craps. The roulette tables are mostly American Roulette, which carries both a 0 and a 00, which increases the house edge.
The ability to play your favorite casino game with a live dealer running the table is one of the biggest reasons why people enjoy a trip to the casino. Take a tour of the floor and you should find a table that suits you and the way you like to play.
Harrah's Cherokee Casino Resort Poker
Poker fans will find plenty to entertain them here. The World Series of Poker has been sponsored by Caesars since 2004, so it's no surprise to find this most compelling of casino card games well represented at the Harrah's Cherokee Casino.
Look out for weekday tournaments at the WSOP room, right next to the sportsbook. You can play from 10am to 6am on weekdays, and noon to midnight at weekends. The superb selection of poker games available at the casino includes Texas Hold'em, High Card Flush and Three Card Poker.
Harrah's Cherokee Casino Resort Hotel
Ever since the first hotel was opened on the site in 2002, the resort has regularly expanded the amount of accommodation available. There are now more than 1,800 hotel rooms, many of them benefiting from spectacular views of the surrounding mountain ranges.
The choice of rooms is extensive, but all feature a host of amenities including upscale furniture and flat screen TVs. The Cherokee Tower, opened in 2021, is particularly popular with guests. Be careful where you select your rooms, though; this is a large resort and if you are there for the casino, you might face a long walk unless you choose your accommodation carefully.
Caesars Rewards Program
One of the advantages of opening a Caesars account is that is automatically confers membership of Caesars Rewards. This is a well established and respected loyalty program that offers benefits to regular players.
There are six tiers to the scheme, and the more you play the more credits you accrue – and the higher up the ladder you rise. As you might expect, the rewards become more lavish the further you go. Those benefits include free play, bonus bets, and in-person rewards such as dining, hotel, and shopping discounts.
All forms of gambling at Caesars, including sports betting and casino play, earn you credits. However, it is unwise to wager beyond your comfort zone simply for the purpose of attempting to pile up more points so that you reach the next level.
Responsible Gambling at Harrah's Cherokee Casino Resort
For most people who visit the Harrah's Cherokee Casino Resort, playing casino games or placing sports bets will be a run and relaxing leisure experience. However, a minority might find themselves at risk of losing control and developing a gambling problem.
Like all reputable operators, the sportsbook and casino here encourage responsible gambling at all times. There are ways to limit the time and money you spend, including simply walking away and taking a break. Staff at the sportsbook should also be able to advise on the best methods to ensure you play responsibly.
If you are concerned about your gambling, or that of someone close to you, there are agencies in North Carolina that can offer advice and assistance. They include the state's own NC Problem Gambling Program, and the local branch of the National Council on Problem Gambling.
Harrah's Cherokee Casino Resort FAQs
Yes, you can. The Caesars Sportsbook at Harrah's Cherokee Casino Resort is located on the gaming floor and offers a generous selection of wagering opportunities. The Harrah's Cherokee Casino Resort sportsbook has been open for business since 2021 and is one of only three in-person sports betting facilities currently available for players in North Carolina.
No, you cannot. The sportsbook's hours are long, but it is not open 24/7. Online sports betting is due to begin in North Carolina in 2024, and it is likely that the Caesars sportsbook will be one of the operators that gains a license, but until then you cannot place a bet when the sportsbook closes its doors.
The best place to cash in a winning sports bet at the Harrah's Cherokee Casino Resort is at one of the staffed windows in the sportsbook area itself. Alternatively, if you have a Caesars account, you should be able to cash in your successful sports bet at the cage in the casino area on the gaming floor next door.
You will need to be at least 21 years old to place sports bets at the Caesars sportsbook here. This rule is strictly enforced, and you can expect to find staff on the door checking your ID to make sure you are old enough. If you are lucky enough to look under 21, make sure you bring your ID.
You can wager in cash at the staffed windows at the Caesars sportsbook at Harrah's Cherokee Casino Resort. Alternatively, you can open a Caesars account for free, fund your account in an appropriate manner, and use your account card or a Caesars Play+ card to finance your sports betting while you are here.
No, you don't need to pay for parking while visiting Harrah's Cherokee Casino Resort. If you are a guest of the hotel, valet parking is free. In fact, free parking is offered in several car parks and the parking garage at Harrah's Cherokee Casino Resort.
Yes. There are a number of rooms in the Soco tower at Harrah's Cherokee Casino Resort where you can check in two dogs up to 50lb for an additional fee. However, it is important to note that you may not bring dogs into public areas – and that means they are barred from the casino and the sportsbook.
Author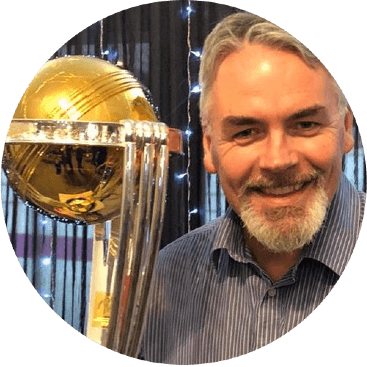 Martin Booth
Senior Writer & Product Reviewer

@MartinBooth_
Martin Booth is a Senior Writer and Product Reviewer for BetCarolina.com. An expert at picking out exactly what sets each app apart, Martin is our go-to source when it comes to informing our readers on what the top betting apps and sites have to offer in North Carolina.