About Harrah's Cherokee Valley River Sportsbook
The Harrah's Cherokee Valley River opened in September 2015. It sits a couple of miles to the north-east of Murphy, in the west of North Carolina. The closest cities are a couple of hours' drive away and they include Atlanta in Georgia, and Chattanooga and Knoxville in Tennessee.
Sports betting began here in March 2021 and is now offered by the Caesars Sportsbook. Harrah's was a famous name in the casino and hotel world before it became part of the Caesars Entertainment empire.
This is one of only three in-person sportsbooks in North Carolina. However, the state has green-lit online sports betting, which is due to launch in early 2024. You can find the sportsbook at the Cherokee Valley River Casino & Hotel just off the main casino floor.
Can You Sports Bet at Harrah's Cherokee Valley River?
Since March 2021, it has been possible to place sports bets at Harrah's Cherokee Valley River Casino. It is now one of three locations where you can wager in person on your favorite leagues and events.
As well as being able to bet on sports here, you can also settle into a plush armchair and watch the best action on a big screen. The range of sports you can bet on is broad, and all of the most popular bet types are available to use.
Even when the legal online sports betting market in North Carolina launches in early 2024, many people will still travel to Murphy for the experience of in-person wagering on offer here. Not least because in the same year the hotel is due to complete an expansion project that will add more slot machines and a poker room.
Harrah's Cherokee Sports Betting Kiosks
One of the ways you can get your money on when you have made your selection is by using a self-service kiosk. There are several of these dotted around the sportsbook and gaming floor of Harrah's Cherokee Valley River Casino.
For experienced bettors, this is a quick and easy way to place your wagers. The user experience is similar to wagering through a website or app, and you should find your selection swiftly and be able to place your bet without delay.
Novice bettors may find kiosks a little confusing at first, but the interface has been designed to be welcoming and easy to understand.
Harrah's Cherokee Sports Betting Windows
If you are a newcomer to sports betting, or you have a query over the wager you want to place, you may prefer to use one of the staffed sports betting windows at the Harrah's Cherokee Valley River Casino sportsbook.
There are at least four of these windows, at which you will find trained desk staff with the expertise both to place your wager quickly and to solve any issues you may have.
Betting windows are also popular with bettors who prefer to wager in cash. As well as being able to place your bet in this way, you can also take a cash payout during opening hours at Harrah's Cherokee Valley River Casino sportsbook.
Watching Sports at Harrah's Cherokee Valley River
One of the main attractions for visitors to the Harrah's Valley River Casino sportsbook is the fact that you can watch the best sporting action here. And not just on a normal sized TV screen.
The biggest screen here is 32 feet long, which is certainly big enough to make watching your favorite sport a pleasant experience. The sportsbook is equipped with comfortable recliner chairs to add to your viewing pleasure.
So place your bet, take your seat, and you may be able to watch the action you have wagered on and follow the fortunes of your selection.
Does Harrah's Cherokee Valley River Have a Sports Betting App?
Until mobile and online sports betting goes live in North Carolina in early 2024, it is not possible to place a sports bet through your mobile device in the Tar Heel State. As a result, the Harrah's Cherokee Valley River Casino does not have a dedicated wagering app.
However, Caesars does operate a sports betting app in about 20 states where it is licensed to trade. It is virtually certain that the company will obtain a license in North Carolina, so you can expect to be able to wager through its app in 2024.
The quality of the sports selection, regular bonuses, and overall user experience suggests that this will be one of the top North Carolina sports betting apps.
Can You Claim Sports Betting Promos at Harrah's Cherokee Valley River?
You should be able to claim promotional offers at the sportsbook at Harrah's Cherokee Valley River Casino. Look out for the chance to enjoy an extra slice of value. This may come in the form of odds boosts, enhanced parlay payouts, or the chance to win a prize in special contests.
Promos and bonuses are less of a feature at retail sportsbooks than they are online. When mobile sportsbooks go live in the Tar Heel State in early 2024, you can expect a blizzard of North Carolina sports betting promos designed to tempt you to play with a particular brand. At a retail sportsbook, however, it is much less easy to walk away and go elsewhere!
Bet Types at Harrah's Cherokee Valley River
Choice is a key factor in attracting customers to play at a sportsbook. The more sports and wagers you offer, the better; and there are a host of ways in which you can place bets at the Harrah's Cherokee Valley River Casino.
Moneylines

If you simply want to place a straight wager on one team to win a game, without any handicaps or other complications, head for the moneyline. This is always one of the most prominent bet types at any sportsbook. When you just want to put your money on the Carolina Panthers to win their next NFL matchup, for instance, the moneyline is the least complicated way to do it.

Point Spreads

One of the main attractions of the point spread is the ability to put your money on a favorite at far better odds than on the moneyline. That's because the sportsbook evens up the odds by giving the underdog a start. You then have to decide whether or not the favorite will cover that spread, and place your wager accordingly.

Totals

The most common type of total bet is on the combined number of points, runs or goals that will be scored by both teams in a game. The sportsbook puts up a figure and you then decide whether there will more or fewer than that - hence the alternative name for totals, over/unders. If you think the Charlotte Hornets' next NBA game will be a high-scoring affair, go for the Over.

Parlays

Many American bettors enjoy a parlay, largely because this type of bet holds out the prospect of a large payout in return for a small single stake. The catch, of course, is that all of the picks in your parlay have to win to trigger that payout. Most books now offer you the opportunity to combine several picks from a single game, as well as the more traditional bet that includes several matchups.

Prop Bets

Within any sporting event, there are outcomes you can wager on that do not relate to the overall result. These can relate to individual performances, or to the progress of one team during the game. Who will score the first touchdown? Which team will be in front at half-time? The list of proposition bets can be extensive, particularly on the biggest sporting events.

Live Bets

One of the most significant innovations in sports betting in recent decades has been sportsbooks' ability to update odds instantly - and, therefore, take wagers while a game is being played. Many bettors get a big thrill from wagering in play, though it can be hard to get a live bet on at a staffed window. You may find it quicker to place your live bet through a kiosk.

Teasers

Teasers are popular because they give you the chance to alter a spread in your favor. The downside is that the odds will become shorter to reflect that change. Many bettors like to combine this facility with a parlay, so that you can tweak the odds on two or more outcomes so that you get a better return if all of your predictions prove to be correct.

Futures

You can place bets at a sportsbook on outcomes that may not be known for several weeks, or even months. If you want to put money on the Carolina Hurricanes to win next year's Stanley Cup finals, for example, you should be able to do so. Make sure you keep your bet slip safe if you place such a bet in cash at a staffed window - you'll need it when the time comes to claim your winnings.
Gambling at Harrah's Cherokee Valley River Casino
The presence of a retail sportsbook represents a significant attraction for visitors to the Harrah's Cherokee Valley River Casino. But, of course, there are plenty of other reasons why you might pay a visit to this location.
There's a host of dining options here, as well as an entertainment center with bowling and arcade games, food court, and spa and indoor pool. Several golf courses are in the vicinity while, for those who want a less active stay, the hotel boasts a spa offering a range of luxurious treatments. For some of us, though, the main attractions will always be the casino and sportsbook.
Harrah's Cherokee Valley River Casino Slots
Much of the space on the 50,000-square feet gaming floor at the Harrah's Cherokee Valley River Casino is taken up by slot machines. There are more than 1,000 slot titles to choose from, with 400 more on the way when the expansion project is completed in 2024. the current range of slot machines includes some progressive jackpots, where you have a slim chance of a major payout.
You should take into account the fact that, under the terms of the state's tribal compact with the Eastern Band of Cherokee Indians, which owns the casino, games must have an element of skill. After an initial spin on the slot machines, you choose which reels to hold and gamble on the second spin. You can play for a penny or for $100, and pretty much any stake in between.
Harrah's Cherokee Valley River Casino Table Games
No casino would be complete without an impressive range of table games, and the Harrah's Cherokee Valley River Casino scores well in this respect. There are more than 60 tables where you can play, and they include all the most popular casino options.
Blackjack remains as popular as ever, and you will find several tables here. Similarly, there are roulette options and craps to enjoy. And, naturally, you can expect your drink to be delivered to your table to savor while you play.
Harrah's Cherokee Valley River Casino Poker
Poker fans will find plenty of ways to play their favorite card game at the Harrah's Cherokee Valley River Casino. There are several tables offering you the chance to play Mississippi Stud and Three Card Poker.
The expansion project due for completion in 2024 will feature a 10-seat World Series of Poker (WSOP) poker room. The WSOP has been sponsored by Caesars for nearly 20 years.
You'll also find a range of video poker machines at the casino. The stakes here range from 25c to $5, so you should find an option to suit your taste, budget, and level of expertise.
Harrah's Cherokee Valley River Casino Hotel
The hotel element of the Harrah's Cherokee Valley River Casino, which is the centerpiece of this entertainment destination, currently offers 300 rooms. However, a $275million expansion project that is under way and due to be completed in 2024 will virtually double that number.
Most of the new rooms will be in a tower that will also include an indoor pool and a fitness center, The hotel rooms' amenities are complemented in many cases by spectacular mountain views.
Dining at Harrah's Cherokee Valley River Casino
For those feeling hungry, you can check out the several dining options at Harrah's Cherokee Valley River Casino.
Firstly, the Landing Cafe offers a little bit of everything including steak, seafood, pizza, and more. The Landing Cafe is the winner of the 2020 Travelers' Choice Award and provides fast, friendly service, a full-service bar, and an extensive wine list.
Aside from the cafe, Harrah's Cherokee Valley River Casino also offers a food court that includes Nathan's Famous, Panda Express, Earl of Sandwich and Moe's Southwest Grill.
Parking at Harrah's Cherokee Valley River Casino
Whether you're looking for valet parking or free self parking, Harrah's Cherokee Valley River Casino has it all. The casino offers free self parking across several large parking lots, including wheelchair accessible parking and Tesla charging stations.
Valet parking is free for hotel guests and Seven Diamonds Rewards cardholders. Otherwise, valet parking will cost $20 otherwise.
Caesars Rewards Program
If you open a Caesars account while wagering at the Harrah's Cherokee Valley River Casino, you automatically qualify for membership of Caesars Rewards.
This is one of the most respected and well established loyalty programs in gambling. One of the benefits is that as soon as you start wagering, either at the casino or the sportsbook – or online in future – you begin to collect credits.
The more credits you pile up, the further you rise through the six tiers of the program, with ever more lavish rewards to match. However, it is never a good idea to wager beyond your comfort zone simply to collect more VIP points. Please always gamble responsibly.
Responsible Gambling at Harrah's Cherokee Valley River
A visit to a retail sportsbook can be a thrilling experience. There's a great buzz in the room, and plenty of ways to wager money on your favorite sporting events.
However, it's important that you gamble responsibly at all times. Because, while any form of wagering should be an enjoyable experience, for a small minority it carries the risk of addiction and a gambling problem.
The sportsbook at the Harrah's Cherokee Valley River Casino & Hotel encourages responsible gambling. It's always a good idea to walk away and take a break if you feel you are not in control.
If you have any concerns, speak to the desk staff. Alternatively, there are agencies you can contact that offer specialized support; they include the NC Problem Gambling Program, and the state branch of the National Council on Problem Gambling.
Harrah's Cherokee Valley River FAQs
Yes, you can. The sportsbook at the Cherokee Valley River Casino & Hotel is one of only three locations in North Carolina where you can place sports bets in person. The sportsbook, which has been in operation since 2021, is located next to the main gaming floor.
No, you can't. The Cherokee Valley River Casino & Hotel sportsbook is not a 24/7 facility. You should be able to wager at any time at a sportsbook operated by Caesars if and when the company obtains a license to offer online sports betting in North Carolina from early 2024 onwards.
The best place to pick up your winnings from a sports bet in cash is at one of the manned windows in the sportsbook. You should also be able to collect a return in cash from the casino cage – this is a useful facility during the hours when the sportsbook is closed.
Under state law, you need to be at least 21 years old to enter a sportsbook and place sports bets. Be prepared to show some ID; the Cherokee Valley River Casino & Hotel takes this law seriously, and may ask for evidence that you are old enough to wager here.
Many visitors to the Harrah's Cherokee Valley River Casino & Hotel like to wager in cash, which you can do at the staffed sports betting windows at the sportsbook. You also have the option of opening a Caesars account and using a Caesars Play+ card to fund your sports betting.
No, it doesn't. Given the out-of-town location, the majority of visitors arrive at the Cherokee Valley River Casino & Hotel by car – and self-parking is free across the site. There are several car parks available to use, and there is wheelchair accessible parking on site for disabled patrons.
No, you are not allowed to bring dogs to the Cherokee Valley River Casino & Hotel. Unlike other hotels, there are no pet-friendly accommodation options. The only exemption to this rule is service animals, which may accompany you on your visit.
Author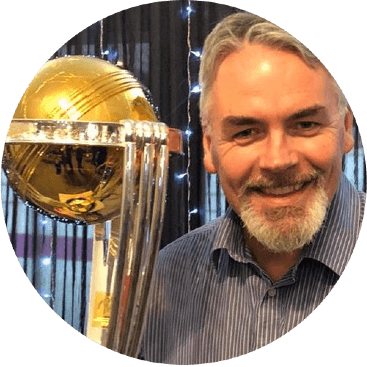 Martin Booth
Senior Writer & Product Reviewer

@MartinBooth_
Martin Booth is a Senior Writer and Product Reviewer for BetCarolina.com. An expert at picking out exactly what sets each app apart, Martin is our go-to source when it comes to informing our readers on what the top betting apps and sites have to offer in North Carolina.